STC offers the oil and gas industry a variety of ceramic materials to meet the increasingly severe service requirements for petroleum and gas upstream processing. These include a wide range of problem solving materials and extreme-wear products made from Zirconia (YTZP, MSZ, CSZ), Zirconia Toughened Alumina (ZTA), Alumina (74–99.96%) and Silicon Nitride (Si3N4).
We work with manufacturers to create specialized components that can withstand the unique and challenging environments, including:
High Heat
Corrosive Environments
Thermal Management Challenges
High Mechanical Wear Environments
Electrical Insulation Requirements
High Temperature/High Pressure Conditions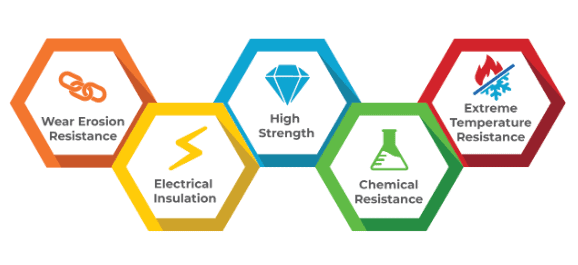 As conventional and unconventional wells become more extreme operating environments, with higher pressures, temperatures and extreme pH, our engineers will collaborate with your team to find the best material solution for your specific challenge. Focusing on custom solutions for oil & gas equipment components, we offer an extensive list of customizable products such as pump liners and plungers for mud, metering and injection pump systems, MWD tooling wear and impact components, wear sleeves, radial bearing components, downhole nozzles, electrical insulators, and connector components.
STC supports the oil and gas industry from prototype to production. Our engineers can assist with custom design of a product to meet your specific need.